Karabakh army: Azerbaijan fired from grenade launchers at night
But the Artsakh defense army vanguard units continue confidently carrying out their military watch, and they take actions in response when necessary.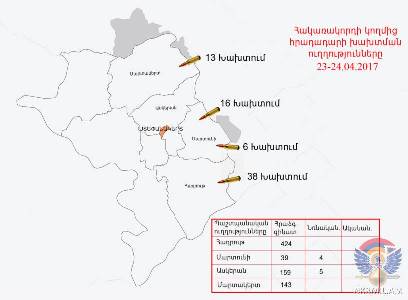 The adversary violated the ceasefire along the line of contact between the Karabakh and Azerbaijani opposing forces more than 70 times, from late Sunday night to early Saturday morning.
During this time the Azerbaijani armed forces fired around 800 shots toward the position-holders of the Republic of Artsakh (Nagorno-Karabakh Republic/NKR) Defense Army, and with different-caliber shooting weapons, the defense army informed Armenian News-NEWS.am.
In addition, the adversary fired 9 shells from shoulder-launched, anti-tank rocket-propelled grenade launchers, in easterly and southeasterly directions of the line of contact.
But the Artsakh defense army vanguard units continue confidently carrying out their military watch, and they take actions in response when necessary.

Source: https://news.am/eng/news/386208.html