April war heroes: Monte's spirit gripped us all, says Albert Hovhannisyan
Albert remembers how Monte's spirit gripped all the other soldiers.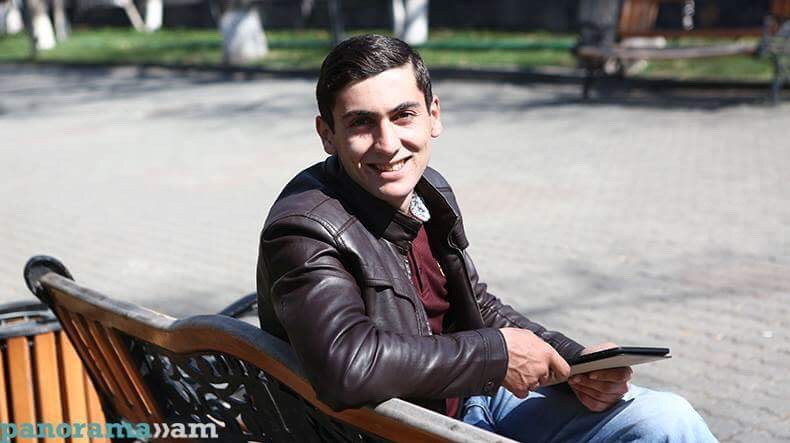 Albert Hovhannisyan, Student at Faculty of Mathematics and Mechanics of Yerevan State University, still thinks back to the April war and his friends whom he lost to the war.
21-year old Albert is from Gegharkunik Province. In 2014, after finishing the first grade, he interrupts his studies to begin the military service at Karabakh's Hadrut district as a signaller.
The military service of the best signaller of the military unit was calm and normal before April 2 2016.
Albert hardly talks about the April war and his deeds. Instead, he tells about his friends fallen in the war and their heroic acts.
"At night of April 1, I was on duty in the communication unit in our military unit. When the alarm was issued, at first we thought that it was an ordinary training alarm, however at around 6:30, when the adversity launched an artillery attack towards our military unit, we realized it is not an ordinary training," Albert said in an interview with Panorama.am.
In his words, all the tank battalions immediately hurried to the defense positions.
"The deputy commander asked who wanted to head to the frontline positions, At first, I expressed willingness. At that time it was just interesting to go to defense positions with the deputy commander," Albert says.
After posing for a moment, he proceeds: "Benyamin Yeghoyan was there. He was the commander of the Tank Platoon. He was so happy to take part in a genuine war for the first time. Benyamin, known as Monte, was among the first to express willingness to go [to the frontline] and he did so. Sniper operator Vladimir Alikhanyan and Tigran Abgaryan joined him as well"
Albert remembers how Monte's spirit gripped all the other soldiers.
"Monte constantly wanted to go ahead. On receiving the order, he took prompt actions. After destroying one Azerbaijani tank and military vehicle, they came back from the frontline. He was so excited. The next day Monte again went back to the same [military] position. At first, he intended to fire, but then changed his mind. The adversary had installed its flag in that position. The tankers drove forward, levelled the flag to the ground and came back. When asked why he did not fire, he replied that there was a cross-tone near that position and he feared to damage it. He was a very courageous, patriotic man and I am proud to have known him and to have had a chance to interact with him," Albert says.
April war hero remembers that the next morning Monte, together with his soldiers, moved forward again. "My friends did not come back. I felt an unspeakable pain after learning that their tank was destroyed," Albert notes.
He continued to hold back all his performed deeds citing that they should not be released. Albert again turned back to his fellow servicemen. "On April 3 I had no cigarettes. I asked Beno (Benyamin) for them. He was standing over the tank. He handed me over the cigarette, and at that moment, I simply felt like saying 'be careful'. He hugged me and said that whatever is destined to happen will happen. If today is my last day, nothing can be done about it. He was feeling something. After leaving for the positions, Beno bid farewell to everyone. Later on their tank was destroyed."
In the words of Albert, the April war has left a great impact on him; meantime it has taught him a lot. Now he has a better understating on life, fatherland and the meaning of peace.
"Now I have a different world outlook. Before the military service, I had numerous dreams, but now I put goals in front of me and try to move forward. I want to have a normal job, after which I will try to achieve the rest of my goals," Albert Hovhannisyan concludes.
Source: http://www.panorama.am/en/news/2017/04/03/April-war-hero-Albert-Hovhannisyan/1754028