Vahan Martirosyan Told How He Had Appeared in Baku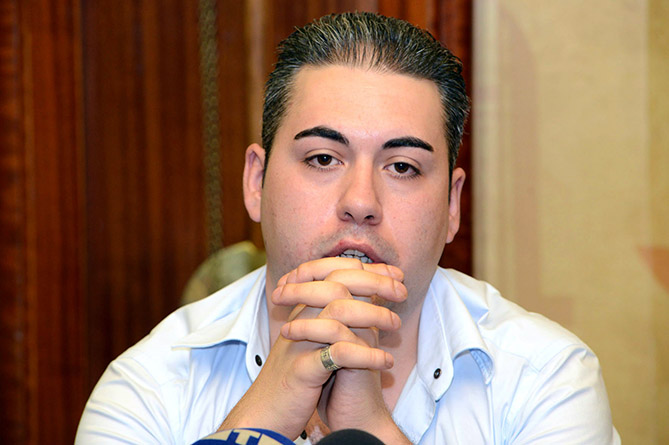 Vahan Martirosyan, a member of Armenia and Azerbaijan Peace Platform made up by Baku, has published a video with new details about his stay in Azerbaijan. "It is time to disclose new details of how I appeared in Azerbaijan with my family in 2015. In the past two years I have heard, read a lot of assumptions. They mostly have nothing to do with the reality including the assumptions that the Azerbaijans propaganda has put forth. The reality will be very interesting not only for my compatriots – the Armenians – but also a number of international organizations which the Azerbaijani state has manipulated with regards to my issue for the sake of its goals," Martirosyan said, Armenpress informed.
He noted that in September 2015 he was in Tbilisi with his family and he accidentally contacted reporters and talked about one interview or one press conference in Tbilisi.
"Over this period they contacted me from Baku, introducing themselves as officers of the Azerbaijani president's press service and liaised me with the Azerbaijani embassy. The allegedly embassy staff met with me who later turned out to be officers of Azerbaijan's national security ministry. We discussed issues relating to the press conference for several days, afterwards a person called Arif of the Azerbaijani president's PR office, offered to hold the press conference in Baku. They gave me full guarantees of security, freedom of speech and said that I am free to do anything but criticizing the Azerbaijani government," Martirosyan said.
According to him, he took a cab and went to the Georgian-Azerbaijani border. According to Martirosyan, when they crossed the border to the Azerbaijani side, he and his family were met by Arif's assistants. "We were accommodated in allegedly the resort intended for the members of government but later it turned out to be the resort intended for the staff of the special services. I had no doubts during the first 2-3 days, these people "acted" press people very well. A few days before the press conference the same people seized our passports and made a tough ultimatum that I had to speak about three things – persecution in Nagorno-Karabakh, suggest that drug business is flourishing in Nagorno-Karabakh and add that I have credible information that militants from Lebanon and Syria. Realizing the deception and in whose hands I had appeared I had to play with their rules because my family was with me," Martirosyan said.
According to him, after the press conference, interviews, meetings with international organizations he was arrested for six months without access to means of communication. During the meeting with the representatives of the Red Cross and the European Union, he says, they put recorders in his pockets.
"There are photos, facts, videos that I have hardly brought out of Baku which I will publish soon. Azerbaijan has been awarded grants for my case, it turns out that huge funds had been allocated from the public budget but only less than 10% of this money reached me. Then I escaped Baku by miracle, became the correspondent of haqqin.az then I went to Baku voluntarily and found out that the person introducing himself as Arif was Anar Zeynalov, a staff of the special service. I asked to send me to Armenia through the Red Cross, I went on hunger protest. I found internet, made a video in which I presented the whole truth and said I had sent the video to my friend in France and asked him to publish the video unless I leave the country in a week. One day later the deputy prime minister of Azerbaijan met me and said I had to move to Ukraine or Turkey but before moving I had to visit the graves of shehids and the victims of the alleged genocide in Khojalu, lay flowers and be videoed. I agreed, and one day later I left for Odessa accompanied by the special services," Martirosyan said. He said that this is the real story of how the citizen of Armenia Vahan Martirosyan appeared in Azerbaijan with his family.