Rouhani hails 'new chapter' in Iranian-French ties
Hassan Rouhani sets out case to French entrepreneurs in speech at Medef, France's main pro-business confederation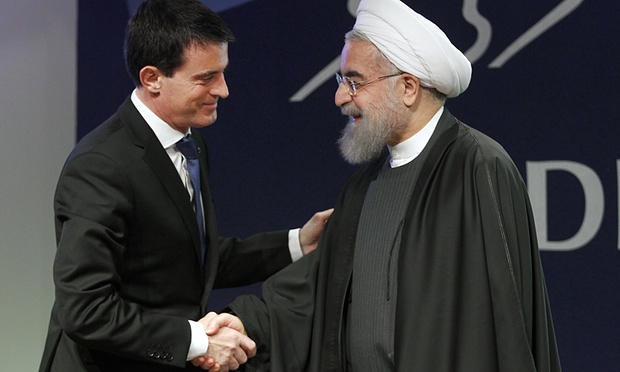 Hassan Rouhani sets out case to French entrepreneurs in speech at Medef, France's main pro-business confederation.
Iran's president has urged French business leaders to leave behind a period of "lose-lose" sanctions as he sought to reintroduce his country to France two weeks after implementation of a landmark nuclear deal with the west.
In a major speech in Paris before the French prime minister, Manuel Valls, and the country's main pro-business confederation, Medef, Hassan Rouhani said the first official visit by an Iranian president in 17 years was a clear sign that French companies were welcome to Tehran.
"France has announced that it is ready to once again enter Iran with a new energy and a new will. We have also come here today to welcome French entrepreneurs, investors to begin economic activities in Iran," Rouhani told the business leaders.
Analysis Trade talks and nostalgia as Hassan Rouhani returns to France
Thirty-seven years after his political career began in earnest in exile in Paris, Rouhani visits as Iranian president seeking to rebuild economic ties
Read more
Valls replied that Iran could count on France. Rouhani is due to meet the French president, François Hollande, at the Elysée palace later on Thursday.
Since his arrival in Paris on Wednesday afternoon, Rouhani has held a series of closed-doors meetings in his hotel. He was accompanied at Medef by a large number of his cabinet members, including the oil minister, Bijan Zanganeh.
News of Iran purchasing 114 planes from Airbus has dominated the agenda but French companies including the construction firm Vinci, the car manufacturer Peugeot, SNCF and the energy company IFP are also in talks.
Contracts worth at least €3bn (£2.3bn) are expected to be signed during the 24-hour visit. Iran's economy, including its oil sector, is still heavily publicly owned.
Valls said the French government was encouraging the business sector to take up opportunities in Iran. "We can open a new chapter," he said, addressing Rouhani. "France is ready to mobilise its business sector ... for modernisation of your country."