THE MESSAGE OF THE MINISTER OF TERRITORIAL ADMINISTRATION AND EMERGENCY SITUATIONS OF REPUBLIC OF ARMENIA
THE MESSAGE OF THE MINISTER OF TERRITORIAL ADMINISTRATION AND EMERGENCY SITUATIONS OF REPUBLIC OF ARMENIA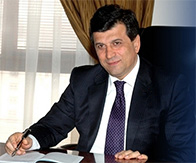 THE MESSAGE OF THE MINISTER OF TERRITORIAL ADMINISTRATION AND EMERGENCY SITUATIONS OF REPUBLIC OF ARMENIA

Dear friends,
Our generation, which has overlived a major disaster, and being called to resist the ever-increasing natural, man-made, environmental and social-economic challenges, has the important mission - to leave a strong, secure, resilient, balanced and sustainable developing prosperous country for our descendants.
We fully realize, that territorial disparities, today have become a serious obstacle in social-economic development. Therefore equal territorial development of the regions is in the focus and is the key priority direction in action programes of the president and the government of the RA whose goal is to create conditions for a decent life and work in all regions of the country. Through various programs and administrative- territorial reforms, we'll try to create opportunities for a prosperous life for the residents region by region.
We should bring those programs to life together. We are creating a new cognitive and advisory network for you, full of information and knowledge about all regions and communities. Visiting our web-site you will be informed, what is happening in the region, what kind of reforms and programs are being implemented. You will be informed not only about what events are taking place, what kind of measures are taken and what plans and programs are performed by the authorities, You will learn what you should do, what are the codes of conduct in case of emergencies.
I hope, that in official website the RA Ministry of Territorial Administration and Emergency Situations and on separate pages for each of its divisions, you will find issues of your concerns. Our website will attempt to keep pace with the society's requirements, while continuing to serve as a means to open dialogue with the public and stakeholders and organizations.
We will do our best to make this necessary site, interesting expected and useful for you.
signature
Sincerely,
Armen Yeritsyan